Refazynist is a Refreshable, Lazy and Animated List
It is exactly what you are looking for. Yes,/ an all in one Flutter list.
Refreshable
It can refresh... Data can came server or local system, or what you want...
Cacheable
It can cache... Live status is saving to local system with Shared Preferences and continue from last point.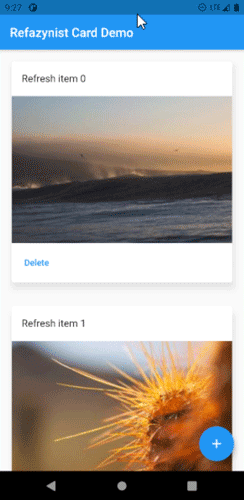 Lazy Loading
It can loading lazy... If you want lazy loading, you can server data or whatever
Animated List
It is powerful Flutter Animated List... It can add item. It can remove item. It can clear all items.
Dismissible
It can dismiss... Swipe to remove. It's simple.
Usage
To use this plugin, add refazynist as a dependency in your pubspec.yaml file.
Example
import 'package:flutter/material.dart';
import 'package:refazynist/refazynist.dart';
import 'package:shared_preferences/shared_preferences.dart';


void main() {
  runApp(MyApp());
}

class MyApp extends StatelessWidget {
  @override
  Widget build(BuildContext context) {
    return MaterialApp(
      debugShowCheckedModeBanner: false,
      title: 'Refazynist Dismissible Demo',
      theme: ThemeData(
        primarySwatch: Colors.blue,
      ),
      home: RefazynistDismissibleDemo(title: 'Refazynist Dismissible Demo'),
    );
  }
}

class RefazynistDismissibleDemo extends StatefulWidget {
  RefazynistDismissibleDemo({Key? key, required this.title}) : super(key: key);
  final String title;

  @override
  _RefazynistDismissibleDemoState createState() => _RefazynistDismissibleDemoState();
}

class _RefazynistDismissibleDemoState extends State<RefazynistDismissibleDemo> {

  GlobalKey<RefazynistState> refazynistKey = GlobalKey();

  int lazyCount = 5; // It's for lazy loading limit
  String sharedPreferencesName = 'dismissible_demo'; // It's for cache. Storing in Shared Preferences

  @override
  Widget build(BuildContext bContext) {
    return Scaffold(
      appBar: AppBar(
        title: Text(widget.title),
      ),
      body: Refazynist(
          key: refazynistKey,
          sharedPreferencesName: sharedPreferencesName,

          onInit: () async {
            return <dynamic>['Init item 1', 'Init item 2'];
          },

          emptyBuilder: (ewContext) {
            return Stack(
              children: <Widget>[
                ListView(),
                Center(
                  child: Wrap(
                    children: [
                      Column(
                        children: [
                          Icon(
                            Icons.warning_amber_rounded,
                            size: 60,
                            color: Colors.black26,
                          ),
                          Text ('Empty'),

                          Padding(padding: EdgeInsets.only(top: 20)),

                          ElevatedButton(
                            child: Text ('Create New'),

                            onPressed: () {
                              refazynistKey.currentState!.insertItem(0, 'Created item');
                            },
                          )
                        ],
                      )
                    ],
                  ),
                ),
              ],
            );
          },

          //
          // Refazynist: It's for refresh

          onRefresh: () async {
            lazyCount = 5; // reset lazy loading...

            await Future.delayed(Duration(seconds: 2)); // Fake internet delay

            return <dynamic>['Refresh item 0', 'Refresh item 1', 'Refresh item 2'];
          },

          //
          // Refazynist: It's for lazy load

          onLazy: () async {
            List<dynamic> lazyList = <dynamic>[];

            if (lazyCount > 0) {
              lazyCount--;
              lazyList.add ('Lazy item ' + (refazynistKey.currentState!.length() + 0).toString());
              lazyList.add ('Lazy item ' + (refazynistKey.currentState!.length() + 1).toString());
            }

            await Future.delayed(Duration(seconds: 1)); // Fake internet delay

            return lazyList;
          },

          //
          // Refazynist: itemBuilder

          itemBuilder: (item, ibContext, index, animation, type) {
            return Dismissible(
                key: Key(item),
                background: Container(
                  color: Theme.of(context).primaryColor,
                  child: Icon(Icons.delete_outline, color: Colors.white,),
                ),
                onDismissed: (_) {
                  refazynistKey.currentState!.removeItem(index, disappear: true);
                  setState(() {

                  });
                },
                child: FadeTransition(
                  opacity: animation,
                  child: Padding(
                    padding: EdgeInsets.only(left: 20, right: 20, top: 30, bottom: 30),
                    child: Row(
                      children: [
                        Expanded(child: Text ('$item')),
                        ElevatedButton(
                            onPressed: () {
                              refazynistKey.currentState!.removeItem(index);
                            },
                            child: Icon(Icons.delete_outline)
                        )
                      ],
                    ),
                  ),
                )
            );

          },

          //
          // Refazynist: removed ItemBuilder (need for Flutter's Animated List)

          removedItemBuilder: (item, ibContext, index, animation, type) {
            return FadeTransition(
              opacity: animation,
              child: Padding(
                padding: EdgeInsets.only(left: 20, right: 20, top: 30, bottom: 30),
                child: Row(
                  children: [
                    Expanded(child: Text ('$item')),
                    ElevatedButton(
                        onPressed: () {
                          refazynistKey.currentState!.removeItem(index);
                        },
                        child: Icon(Icons.delete_outline)
                    )
                  ],
                ),
              ),
            );
          }
      ),
      floatingActionButton: FloatingActionButton(
        onPressed: () {
          showModalBottomSheet(
            context: context,
            builder: (sbsContext) {
              return ListView(
                children: [
                  ListTile(
                    title: Text('Add item to top'),
                    onTap: () {
                      refazynistKey.currentState!.insertItem(0, 'Added item ${refazynistKey.currentState!.length()}');
                    },
                  ),

                  ListTile(
                    title: Text('Remove item from top'),
                    onTap: () {
                      refazynistKey.currentState!.removeItem(0);
                    },
                  ),

                  ListTile(
                    title: Text('Clear The List'),
                    onTap: () {
                      refazynistKey.currentState!.clear();
                    },
                  ),

                  ListTile(
                    title: Text('Show Shared Preferences'),
                    onTap: () async {
                      SharedPreferences _prefs = await SharedPreferences.getInstance();

                      String? spString = _prefs.getString(sharedPreferencesName);

                      print ('Shared Preferences: $spString');

                      showModalBottomSheet(
                        context: sbsContext,
                        builder: (sbsContext2) {
                          return TextField(
                            maxLines: 15,
                            decoration: InputDecoration.collapsed(hintText: spString),
                          );
                        },
                      );
                    },
                  ),

                  ListTile(
                    title: Text('Clear Shared Preferences'),
                    onTap: () async {
                      SharedPreferences _prefs = await SharedPreferences.getInstance();

                      _prefs.setString(sharedPreferencesName, '');
                    },
                  )
                ],
              );
            },
          );
        },
        child: Icon(Icons.add),
      ),
    );
  }
}