Qonversion
Qonversion is the data platform to power in-app subscription revenue growth.
fast in-app subscriptions implementation
back-end infrastructure to validate user receipts
manage cross-platform user access to paid content on your app
comprehensive subscription analytics
out-of-the-box integrations with the leading marketing, attribution, and product analytics platforms
push notifications and in-app messaging to win back lapsed subscribers
A/B Testing for in-app purchases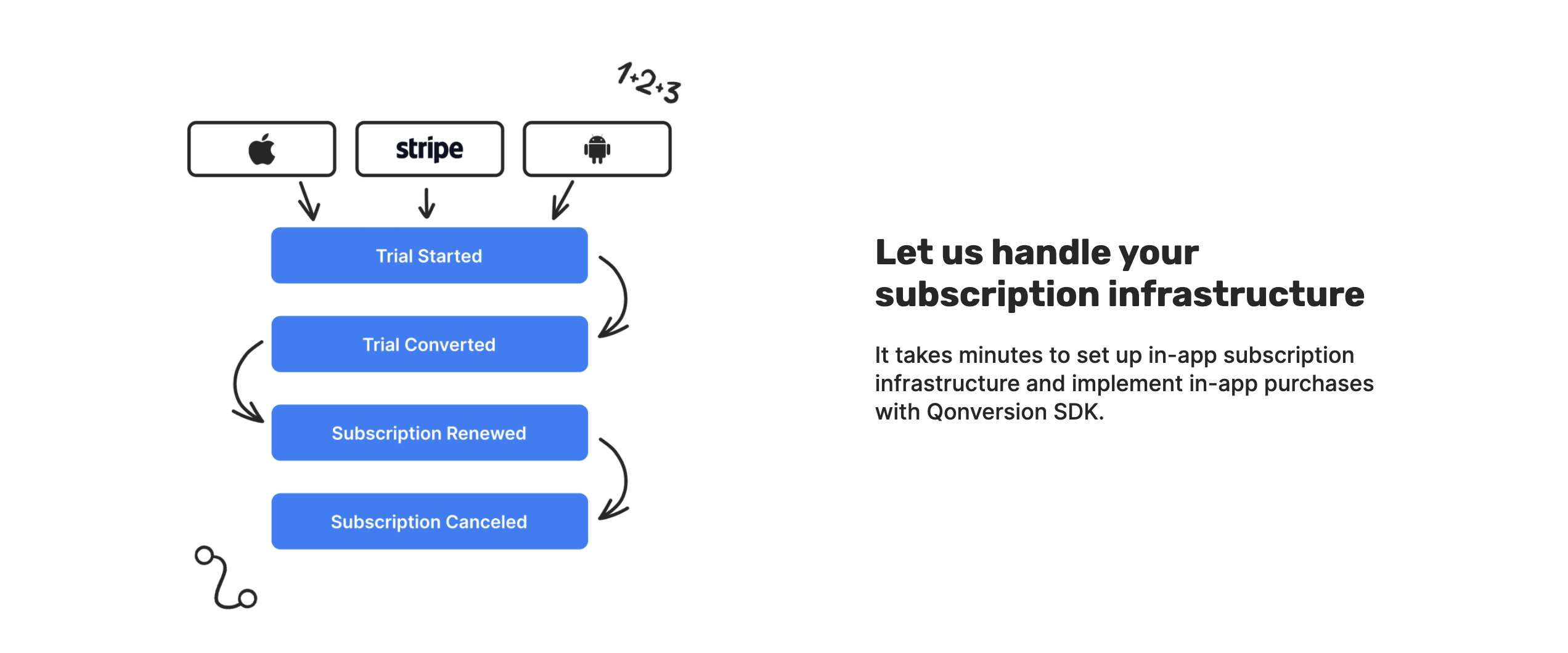 How It Works: Product Center
Application calls the purchase method of Qonversion SDK.
Qonversion SDK communicates with StoreKit or Google Billing Client to make a purchase.
If a purchase is successful, the SDK sends a request to Qonversion API for server-to-server purchase validation. Qonversion server receives accurate information on the in-app purchase status and user entitlements.
SDK returns control to the application with a processing state.
Analytics
Monitor your in-app revenue metrics. Understand your customers and make better decisions with precise subscription revenue data.
Integrations
Send subscription data to your favorite platforms. Share your mobile and web subscription data using our powerful integrations.

Personalized push notifications & in-app messaging
Qonversion allows sending automated, personalized push notifications and in-app messages initiated by in-app purchase events. This feature is designed to increase your app's revenue and retention, provide cancellation insights, reduce subscriber churn, and improve your subscribers' user experience.
See more in the documentation
A/B Testing for in-app purchases
Boost conversion rates with paywalls and in-app purchases A/B testing. Find the best pricing and paywall variations. Be flexible to prove hypotheses without app releases.
Why Qonversion?
No headaches with Apple's StoreKit & Google Billing. Qonversion provides simple methods to handle Apple StoreKit & Google Billing purchase flow.
Receipt validation. Qonversion validates user receipts with Apple and Google to provide 100% accurate purchase information and subscription statuses. It also prevents unauthorized access to the premium features of your app.
Track and increase your revenue. Qonversion provides detailed real-time revenue analytics including cohort analysis, trial conversion rates, country segmentation, and much more.
Integrations with the leading mobile platforms. Qonversion allows sending data to platforms like AppsFlyer, Adjust, Branch, Tenjin, Facebook Ads, Amplitude, Mixpanel, and many others.
Change promoted in-app products. Change promoted in-app products anytime without app releases.
Win back lapsed subscribers. Qonversion allows sending highly targeted push notifications triggered by server-side subscription events. You can send special offers to users who just canceled a free trial or a subscription. Plus you can deliver in-app messages with a beautiful native design that you create in Qonversion.
A/B test and identify winning in-app purchases, subscriptions or paywals.
Cross-device and cross-platform access management. If you provide user authorization in your app, you can easily set Qonversion to provide premium access to authorized users across devices and operating systems.
SDK caches the data. Qonversion SDK caches purchase data including in-app products and permissions, so the user experience is not affected even with the slow or interrupting network connection.
Webhooks. You can easily send all of the data to your server with Qonversion webhooks.
Customer support. You can always reach out to our customer support and get the help required.
Convinced? Let's go!
Documentation
Check the documentation to learn details on implementing and using Qonversion SDKs.
Help us improve the documentation
Whether you're a core user or trying it out for the first time, you can make a valuable contribution to Qonversion by improving the documentation. Help us by:
sending us feedback about something you thought was confusing or simply missing
sending us a pull request via GitHub
suggesting better wording or ways of explaining certain topics in the Qonversion documentation. Use SUGGEST EDITS button in the top right corner.
Contributing
Contributions are what make the open source community such an amazing place to learn, inspire, and create. Any contributions you make are greatly appreciated.
Fork the Project
Create your Feature Branch (git checkout -b feature/SuperFeature)
Commit your Changes. Use small commits with separate logic. (git commit -m 'Add some super feature')
Push to the Branch (git push origin feature/SuperFeature)
Open a Pull Request
Have a question?
Contact us via issues on GitHub or ask a question on the site.
License
Qonversion SDK is available under the MIT license.
Libraries